Boek Professional Capital on the move!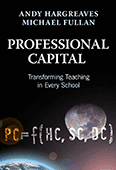 "The future of learning depends absolutely on the future of teaching. In this latest and most important collaboration, Andy Hargreaves and Michael Fullan show how the quality of teaching is captured in a compelling new idea: the professional capital of every teacher working together in every school. Speaking out against policies that result in a teaching force that is inexperienced, inexpensive, and exhausted in short order, these two world authorities—who know teaching and leadership inside out—set out a groundbreaking new agenda to transform the future of teaching and public education.
Ideas-driven, evidence-based, and strategically powerful, Professional Capital combats the tired arguments and stereotypes of teachers and teaching and shows us how to change them by demanding more of the teaching profession and more from the systems that support it. This is a book that no one connected with schools can afford to ignore."
Binnen de KWP zijn tien boeken van Andy Hargreaves and Michael Fullan in omloop. De bedoeling is dat de lezer het boek doorgeeft aan een collega of kennis binnen het Rotterdams onderwijsveld. Op die manier kunnen veel professionals op een leuke manier zich op de hoogte stellen van deze kennis. Als je het boek gelezen hebt, kun je dan hieronder kort aangeven wat je interessant vond aan het boek?
Uiteindelijk willen we rondom dit boek een lezing organiseren en een van de auteurs hierbij uitnodigen.  Via de website en linked in zullen jullie op de hoogte hiervan worden gehouden.
[form form-2]